Application Success Story


Wide Area Ethernet Over E1 . . .
Patton G.703-to-Ethernet Converters
Hit Price/Performance Targets
for Jiangsu Province, China

Jiangsu Province's Bureau of Industry and Commerce in Nanjing, governs branch offices in 15 cities and 123 counties -- each with it's own

"Patton's Model 2707 proved both a viable and affordable solution. It performs very stable at a reasonable price."

- Shan Rong, Manager
Bureau of Administration of
Industry and Commerce
Jiangsu Province, China

Ethernet LAN. For Shan Rong, the Bureau's manager, joining those 140 local nets into a single WAN posed a more-than-trivial challenge.

The Problem
Clear-channel E1 is very low cost and readily available throughout China (even more than framed E1), so choosing G.703 for WAN transmission was a given. But finding a G.703 NTU that could hit both budget and performance targets was a much bigger problem . . . until Patton introduced Shan Rong to the Model 2707/I Lowest Cost G.703 NTU.

Stability
Since the Bureau's network carries critical real-time data, availability is a key concern . . . Full story

Key Benefits for LAN-WAN Administrators
· Highly Stable Connection
For Critical Real-Time Applications
· Affordable Solution
Meet Your Budget Constraints
· Quick & Easy Installation
Virtual Plug-and-Play Saves Time & Resources
· Space-Saving CPE and CO Solutions
Compact Stand-Alone & High-Density Rack Card
· Flexible Connectivity
V.35, X.21, or 10Base-T Interface Options
· Reliable and Trustworthy
Made in USA Under Strict ISO 9001Guidelines

&nbsp

Product News

Announcing Patton's New High-Density RAS!
Patton Releases Model 3120 Next-Generation Remote Access Server with 96 or 120 V.92 / V.90 / ISDN / Dial-Up Ports



Boasting carrier-class features and built-in redundancy in a scaleable 1U chassis, Patton's Model 3120 Remote Access Server is designed for maximum uptime in Telecom, Enterprise, and Service Provider environments.

Dual-redundant hot-swappable power supplies protect against single-point power failures, while two 10/100-Mbps Ethernet ports cover load sharing and traffic balancing requirements. An optional expansion module enables ISPs to add dedicated DSL modem ports for increased revenue or asych ports for terminal servers.

120 modem connections with V.92 and V.110 support* in a 1.75 inch high (4.45 cm) rack-mount box make this is the highest density, lowest profile RAS available anywhere.

*available in software release 3.4.2

Product Features

Quad T1/E1/PRI WAN ports


Up to 120 simultaneous V.92, V.90, or ISDN V.100*/SyncPPP connections


Dual 10/100 Ethernet ports


Integrated IP Router


SNMP/HTTP management


1U high 19 in. stackable chassis


AC and DC power options


Dual-redundant hot-swappable load-sharing power supplies

This red hot RAS rounds out Patton's award-winning RAS product portfolio and offers an ideal solution for applications such as remote access, telecommuting, or branch office connection.

Read the 3120 Product Web Page.

Contact Patton Sales.

| | |
| --- | --- |
| | |





Coming Soon . . .

Watch your next newsletter for
ANY-RAS Port Replacement Program!
Get Ready to Pull the Plug on Your End-of-Life RAS . . .



Swap your dead or discontinued RAS
for a brand new red RAS from Patton at a red hot price! You'll get a state-of-the-art, high-performance, Patton RAS with lifetime software upgrades and free technical support all included. Contact your Patton Sales Rep for more information about this upcoming program.




Services


Enjoy the Benefits of Partnership with Patton . . .

Whether you are an end user, VAR, integrator, or distributor, or carrier, Patton provides plenty of perks for our highly valued partners. Join now to get yours!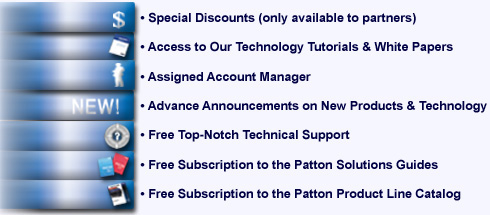 Cash in on the valuable benefits of partnership status. Register NOW! on Patton's Web site at www.patton.com/partner.



| Top of Page |
|

China's E1-to-Ethernet Solution | High-Density RAS Model 3120 |
| RAS Port Replacement in W. Europe | Have You Joined? |




7622 Rickenbacker Drive, Gaithersburg, MD 20879 USA
Phone: +301-975-1000 or Fax: +301-869-9293
Copyright© 2002 Patton Electronics Co., All Rights Reserved


This message is never sent unsolicited. To unsubscribe please click here, enter "remove" in the subject line of the email that appears, then click "Send."